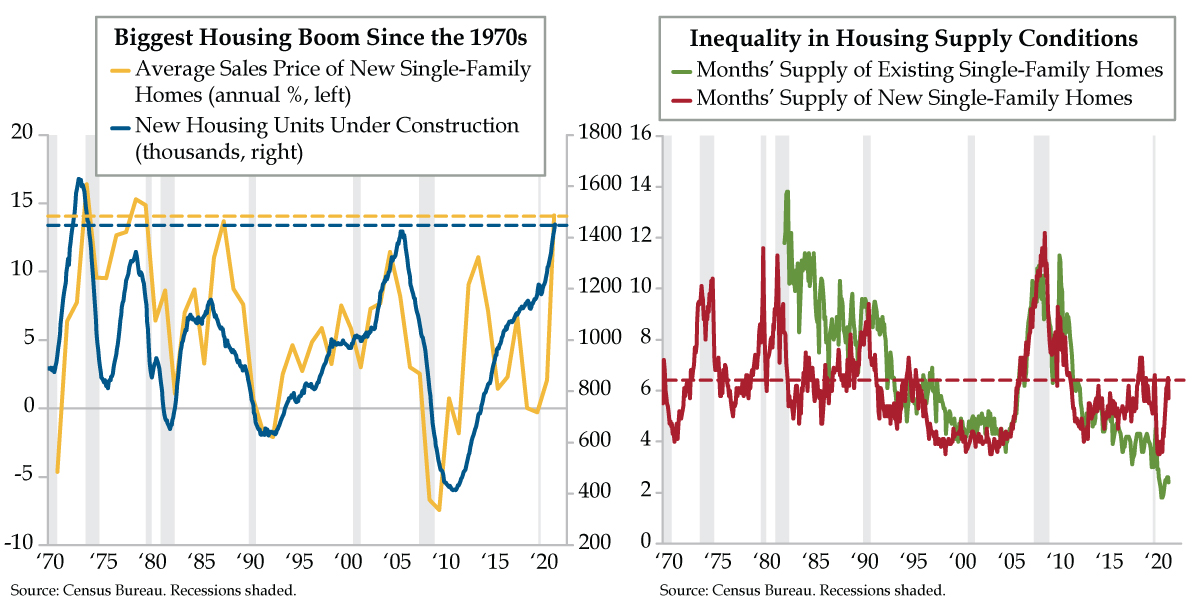 VIPs
New homes under construction rose to 1.451 million in October, eclipsing the 2000s peatilk of 1.426 million circa March 2006; the last time units under construction were higher was the 1970s, though the current boom critically lacks the same underlying population growth rates

Unsold existing single-family home inventories sit at 2.4-months, a record low with no prior reading below 3 in data back to 1982; meanwhile, the undersupply of new single-family homes in 2020 has given way to prints closer to the long-term average of 6 months in 2021

A record 28% of new single-family homes for sale are "Not Started" – a massive backlog of unbuilt homes; however, with buying conditions, per University of Michigan, inverted for the first time since the 1980s, demand will be challenged by the high pricing environment
"Life is short; eat dessert first" is a familiar mantra attributed to famed pastry chef Jacques Torres. But he wasn't the first to suggest such turnabout in the daily ingesting process. That idea was championed by the Hysteron Proteron Club, a 1920s dining club at Balliol College, Oxford in England. The club's name, of Greek origin, is a hysteron proteron – a rhetorical turn, which occurs when the first key word refers to something that happens later than the second. An example in everyday life would be "putting on your shoes and socks," rather than taking the logical reverse route. At Balliol College, the Hysteron Proteron Club's raison d'etre was eating meals, but backwards. For every term, there was at least one dinner that commenced with coffee and liqueurs and ended with the soup course. The Club's activities ventured beyond flipping eating orders. As legend holds, one meal spanned 12 hours, from 9:00 a.m. to 9:00 p.m., starting with coffee and ending with a swim, usually a pre-breakfast activity, at Parsons' Pleasure in Oxford's University Parks.
History of unusual English eating clubs can be summed up in more common figures of speech such as "putting the cart before the horse" or "the tail wagging the dog" or, one of QI's favorites, "getting over your skis." As for the here and now, no references to another Englishman, ski-jumper and Olympian Eddie are apropos. Today, we reference the risk of overbuilding in the U.S. housing market.
Cue yesterday's October housing starts and building permits report from the Census Bureau. Most of the focus from the Street is usually on the housing starts angle as it feeds directly into residential investment in the gross domestic product (GDP). Lags for housing starts are spread out over twelve months, with most of the new home building occurring in the first nine months. This means the latest reading on starts has ripple effects on future new residential construction activity.
Many rely on the National Association of Home Builders sentiment index for guidance on the near-term path for the single-family housing sector. However, this is of the 'soft data' variety. The short-run direction for home building of the 'hard data' class comes from building permits. This metric is a varsity leading indicator, one of ten to make the cut on the team of the U.S. index of leading economic indicators.
One measure from the starts/permits report that's overlooked, however, is that of homes under construction. This indicator provides a snapshot of present activity that's been permitted and started but not yet finished. 'Under construction' is one of the stages of housing production, with 'Not started' coming before and 'Completed' coming after.
Quietly and to little fanfare, new homes under construction in the U.S. rose to 1.451 million in October (blue line). Follow the dashed blue line from right to left and observe how the post-COVID boom in home building has now eclipsed the 2000s peak of 1.423 million reached in February and March of 2006. A further glance to the left lands the dashed line against the only other bulge rivaling the current one – that of the early 1970s.
Before you think of asking – YES, the 2021 run-up in house prices does resemble this era…sans the underlying demographic justification. Faster home price appreciation translates to higher margins and profits for home sellers. Home builders are incentivized to sail downwind and build more units to 'answer' the pricing environment. To that end, the average sales price for new single-family homes is roughly 14% above year-ago levels (yellow line) through the first nine months of 2021. Follow the yellow dashed line to the left from the latest plot and you'll also land in familiar territory – the 1970s boom.
Housing undersupply has become a battle cry of the realtor community, prompting the builder community to ultimately capitulate. At the current sales pace, unsold existing single-family home inventories sit at a 2.4-month supply (green line). At no point in pre-pandemic history, back to 1982, did single-family existing home supply register readings below 3 months.
The extended undersupply signals emanating from the home resale market have builders hungry to satisfy home buyers' needs. At 3.5 months, record undersupply of new homes in 2020 (red line) have given way to readings closer to the long-run average of about 6 months (dashed red line) in 2021. But that doesn't mean this is the new status quo.
A record 28% of new single-family homes for sale are in the stage-of-production bucket that's furthest upstream, as in not started. In short, it translates to land acquired. Think of that as a proxy for the backlog of yet-to-be-built homes. These properties require prepping such as grading and laying infrastructure like sewer lines, etc. Once that process is complete, the builders can (and, critically, must) go vertical. There's a unique inertia to finish the projects once they're started.
Echoes of 1970s home price inflation and home building bulges don't necessarily sound like the overbuilding of the 2000s. With home buying conditions inverted (more saying it's a bad time to buy than good) for the first time since the early 1980s, demand for new shelter will be challenged by a persistently high pricing environment. The vulnerability of getting way over their skis could become nastily manifest as builder momentum leads to new home months' supply running noticeably above the long-run trend. Better to eat dessert first.