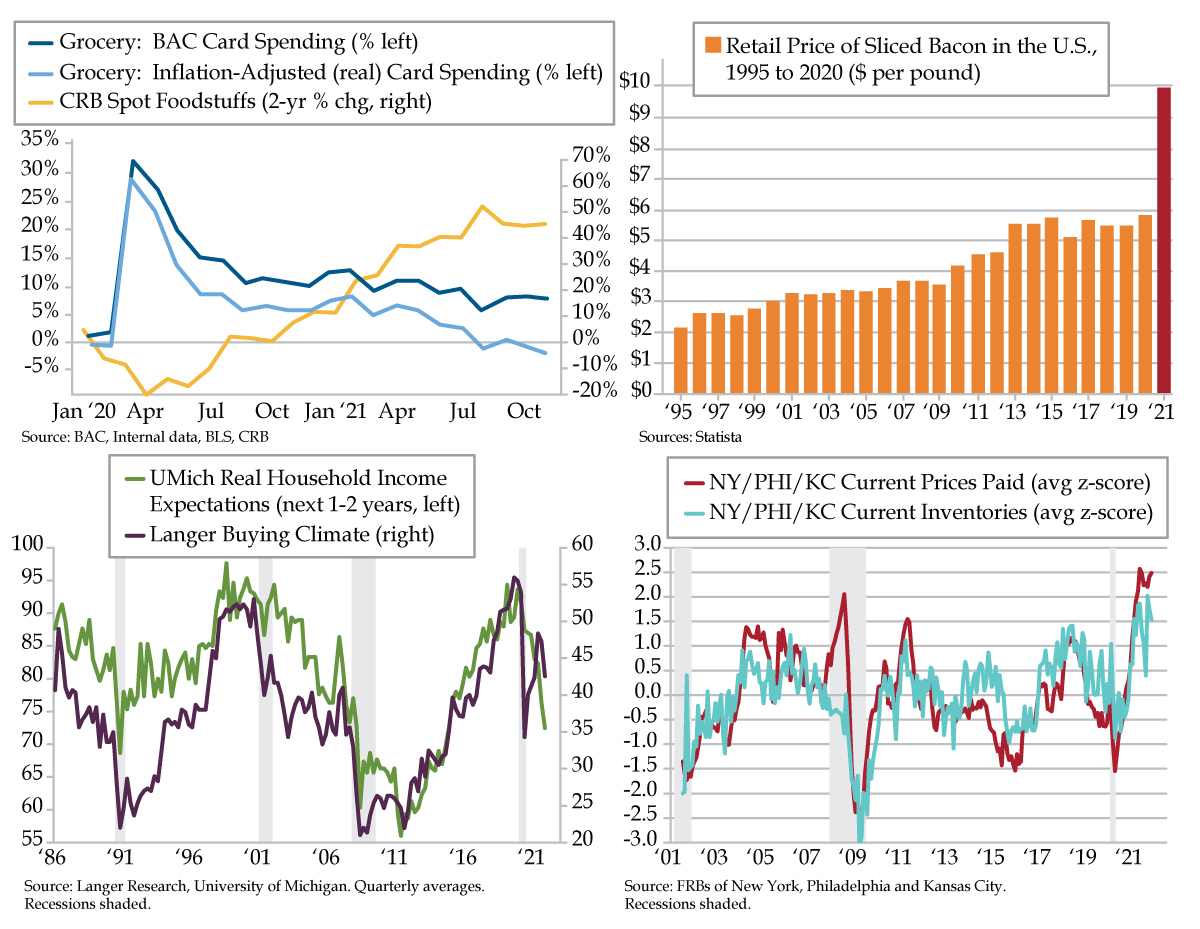 VIPs
Per Bank of America, the percentage change in inflation-adjusted grocery spending on a 2-year basis slipped further into contraction in October; while food inflation appears to be leveling off at high levels, per the CRB, higher prices are driving nominal gains in card spend
On an inflation-adjusted basis, growth in goods spending reached a massive 40% last spring, while a third stimulus check helped boost services spending 20%; against the current pricing backdrop, UMich Real Household Income Expectations in 1-2 years are now at 5-year lows
The aggregate of Current Inventories from the NY, PHL, and KC Fed's manufacturing surveys, as a z-score, is just below a 20-year high; meanwhile, Current Prices Paid continue to push upward as demand pulled forward exacerbates ongoing supply chain challenges
The date more than 30 years into the future was October 16, 1997. The United States was in it to win it – the Space Race, that is. The means by which to launch this effort was the Jupiter 2, a saucer-spaced spacecraft that was to transport a cryogenically frozen family on a 5 1/2 year journey to colonize an earth-like planet orbiting the star Alpha Centauri. Such was the space craze that captured the imagination of a nation in the early 1960s Sputnik era. What started with the 1812 novel Swiss Family Robinson and inspired the comic Space Family Robinson culminated in the CBS science fiction TV series Lost in Space that ran all of 83 episodes in the three years through 1968. The original intention was to dramatically depict the trials and triumphs of a family whose spaceship had been thrown off course landing them on the wrong planet at the wrong time. The devolution to satirically silly was swift as the evil and hapless character of Dr. Smith endlessly battled the equally distracting Robot, a pricey cast addition who flailed ceaselessly shouting, "Warning, Warning!" into a vacuum bereft of cataclysms. The one catchphrase that withstood the test of time, however, was "Danger, Will Robinson!"
The markets' Robot is the bond market, warning for months of danger, which like the SciFi icon, has fallen on deaf ears. The Federal Reserve's slowly sapping liquidity from the markets presents nary a threat to a stock market that only knows how to mount fresh heights. Chicago Fed President Charles Evans on Thursday further reinforced the sanguinity, assuring investors that he still saw 2023 as appropriate timing for the first rate hike (we'll be able to easily identify one of the outliers on that December dot plot revealed in this year's last Summary of Economic Projections).
If only he'd accept, I'd invite Charlie to join me down Dallas way for my next shopping run to Kroger's. Perhaps then he'd have a better feel for what that upper righthand chart represents. It's hard to describe the shock effect of squinting to see if the price was a typo when I went to grab a pound of Oscar Meyer bacon priced at $9.99, up a big smidge from 2020's $5.83. Suffice it to say, I demurred. I did not bring home the bacon, not for that price.
The cost to put food on the table has become so prohibitively expensive that when adjusted for inflation, the percentage change in grocery spending (light blue line) on a 2-year basis slipped further into contraction in October, according to Bank of America. The best that can be said is that, in the same timeframe, food inflation (yellow line) appears to have leveled off, albeit at ridiculously high levels. The sell-side firm diplomatically noted that, "With rapidly rising inflation in the economy, we have to consider how much of the gain in card spending simply reflects higher prices." A similarly depressed trend in real spending on furniture has emerged, while airfares are bucking the trend, seeing rising real spending.
Another report released Thursday by the Economic Cycle Research Institute further warned that, "Inflation is really cutting into consumer budgets. Consumer spending intentions for vehicles and appliances are now the worst in over 40 years. Let's not pretend that won't weigh on real holiday spending, adjusted for inflation."
Some of what we're witnessing is payback for the most ill-conceived fiscal policy in U.S. history. On an inflation-adjusted basis, growth in goods rose by a blistering 40% when it peaked last spring. Stimulus check 3.0 direct deposited into checking accounts of millions of Americans who didn't need the money similarly stoked services spending, which skipped up by 20%.
As for those who protest the nasty pullback since then, the ECRI offered up two clarifiers: "While some may wonder if this is simply about base effects, it is not. We have ways to strip out the base effect, and the slowdown patterns shown still hold." Moreover, while "Retail sales data is much narrower [than broad] consumer spending data. Yes, real retail sales growth showed a slight uptick in October, but the downtrend that began in the spring is very much intact."
The upshot: The slowdown in consumption ain't near over just yet. 
The demand pulled forward is still wreaking havoc on the supply chain the dash to relief-spend catalyzed. Today's lower right chart depicts the aggregate of the manufacturing surveys of the New York, Philadelphia and Kansas City Feds' Current Prices Paid and Current Inventories series (turquoise and red lines). When playing-field-leveled using our favored z-scores – deviation from the mean adjusted for volatility – you see that inventories are just off their 20-year highs while price pressures have yet to abate. Both gauges remain near record highs.
Even as profit margins remain pressured, Americans' perceptions of their wherewithal to pay up is withering. Real Household Income Expectations in the next 1-2 years (green line), as surveyed by the University of Michigan, are at five-year lows. Little wonder that the Buying Climate (purple line) reported weekly in the Langer Consumer Comfort Index has also hooked back down.
Hopes are running high that a week from today, Black Friday will be one for the record books as U.S. consumers are compelled to buy early, or else. The risk is that the Robot that cried wolf is finally flagging a true warning.