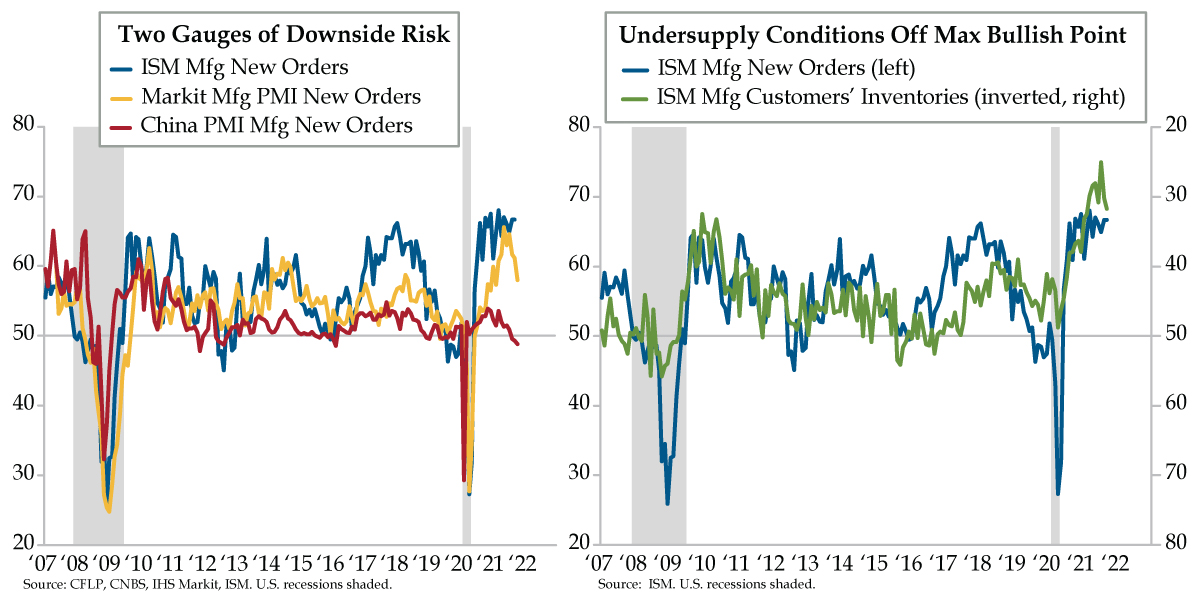 VIPs
China's manufacturing PMI was 49.2 in October, just below September's 49.6 print as energy remains constricted; crude stockpiles hit 919 million barrels by October 24, 59% of capacity and the lowest since November 2018, and 13% of coal capacity remains offline

At 31.7, ISM Mfg Customers' Inventories are at their highest levels since February, despite lingering supply chain woes; as is the case with China, the globe's marginal driver of demand, New Orders in the U.S., appear set to decline as inventories are replenished

China's services and construction PMI had a headline of 52.4 in October, shy of the 53.0 consensus forecast and well below September's 53.2; economic activity in the world's second largest economy is at the cusp of contracting, bringing with it a sizable deflationary impulse
Shame on Daniel Craig for catalyzing an existential crisis. Prior to this momentous development, there was great confidence in the halls of QI that the late Sir Sean Connery would never be dethroned as the best James Bond of all time. Alas, No Time to Die has scuttled the rankings. On Sunday, we re-watched the movie on the big screen, which itself is a post-pandemic treat. Spoiler alert: (many) Kleenex were needed the second time around. The quote M reads at the end was as fitting as could be for a Bond who makes the ultimate sacrifice for God, country and, indeed, the world. Written by American author, journalist and social activist Jack London, who was most famous for penning the novel The Call of the Wild, M's tribute was as suitable as it was heart-wrenching: "The proper function of man is to live, not exist. I shall not waste my days in trying to prolong them. I shall use my time."
It would seem Chinese officials are wasting no time broadcasting the country's economic slowdown. October's manufacturing PMI was 49.2; a tad lower than the 49.6 reported last month. We know what's going on – energy in every form is being conserved to the extent diesel fuel is being rationed. As of October 24th, China's crude stockpiles had fallen to 919 million barrels, 59% of capacity and the lowest since November 2018. Meanwhile, 13% of China's coal capacity is offline, which equates to about 60 mines. These are meaningful figures when China's energy consumption is more than 70% coal. A colleague sent a photo of Beijing a few days ago and the skies were blindingly blue. It's a bit premature for this to be the case given the 2022 Olympics don't begin until February. One final note on this count is that we forget that Russia is squeezing both Europe and China.
Ex-energy, high commodity prices are likely biting harder as a factor of time given China has been parsing out hoards amassed at cheap prices when the rest of the world was in shut-down mode. And officials are also attempting to slowly blow up its property sector and this isn't the first time they've tried to control this exact same experiment. We could see a shockingly low print for fourth quarter GDP…and officials know it, which means it's likely worse than most can conceive. As our friends at Gavekal Dragonomics told the Financial Times, "what was an anticipated slowdown in China following the post-Covid boom of the first half of 2020 has evolved into a 'shocking loss of economic momentum.'"
As for what's to come, in the same spirit we'll be glued to our Bloombergs to see where ISM New Orders (blue line) hits the tape this morning, China's manufacturing PMI New Orders (red line) are closely followed due to their role as being a leading indicator. In February 2020, this gauge crashed to 29.2 but bounced right back to 52.0 the next month. Comparing October's 48.8 reading to this moment in time is thus a bit of a red herring. The closest legit comparison is February 2016, when the world was embroiled in an industrial recession. Today's left chart is as self-explanatory as they come – as long as China remains the marginal global consumer of you-name-it, what's unfolding in China today will induce deflation worldwide. While it might not be perfectly synched, New Orders in the U.S. will be following China's into the red. In the case of IHS Markit, which reflects all sizes of companies across the U.S., New Orders' descent is more advanced (yellow line).
Call today's right chart corroborating evidence of its sibling on the left. Customer Inventories are another precursor to New Orders. To depict the trend, we have to invert the series (green line) – inventories up mean less demand to accomplish the post-pandemic nearly impossible task of fully re-stocking. And yet, we see that firms have been grinding away at this task for months now as inventories, at 31.7, are at the highest level since this past February. That's saying something given the gnarled supply chain at ports only shows signs of worsening. The sole factor that fills in the blank against such a backdrop is declining demand that's permitting inventories to build despite how difficult it is to source inputs of all stripes and flavors. As is the case with China's PMI New Orders, ISM's New Orders will succumb to the gravity of rising Customer Inventories.
For all of the hullaballoo over the weekend surrounding China's sanctioning the communique that its factory sector is slowing, the bigger news was its non-manufacturing sector in October, which represents services and construction. The headline slowed to 52.4, shy of the consensus forecast of 53.0 and a marked departure from September's 53.2. Tally the data and you get to 50.8 at the composite level. Economic output of the world's second largest economy is at the cusp of contracting.
And in the world's largest economy? With yet another "hoped-for" vote for the bipartisan infrastructure spending program tomorrow, we remain sidelined, in the 'believing it when we see it' camp. God help us if the bigger social spending gets miraculously passed alongside it – U.S. household budgets are already being suffocated by inflation headed into the holiday season. We can only imagine the stress of families having to tussle with it being no time to die come Christmas.