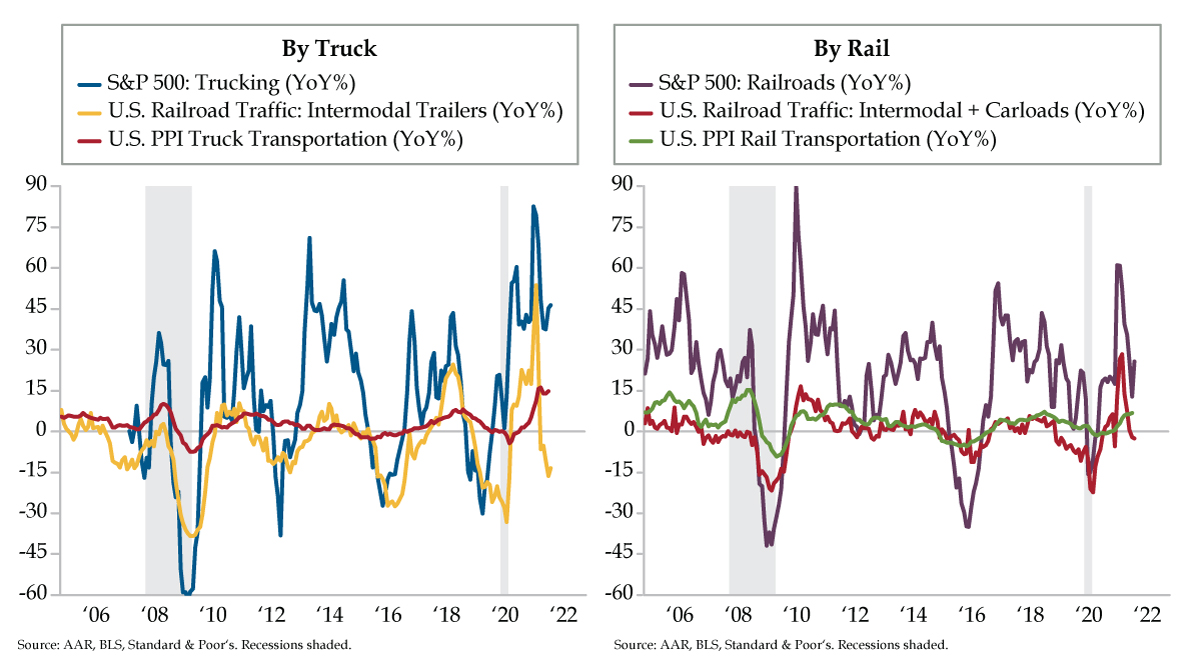 VIPs
Per data from the Association of American Railroads, intermodal trailer traffic, a proxy for truck output, downshifted from double-digit expansion to contraction from June to October; a driver shortage, as well as a lack of chassis at ports, are impeding trucking industry growth
Every month since March has seen average weekly hours in truck transportation at or above prior record highs; despite the PPI for truck transportation posting YoY prints in the teens since April of this year, the S&P 500: Trucking continues to post elevated annual returns
Rail traffic has been down YoY since September, driven by intermodal containers rather than traditional rail carloads; however, given the S&P:500 Railroads has posted double-digit YoY gains since August 2020, investors seem to view any slowdown in activity as temporary
Space, the final frontier
These are the voyages of the Starship Enterprise
Its five year mission
To explore strange new worlds
To seek out new life
And new civilizations
To boldly go where no man has gone before
On September 8, 1966, Captain James T. Kirk and crew did just that in the inaugural episode of Star Trek: The Original Series. During its initial run, it was nominated for the Hugo Award for Best Dramatic Presentation multiple times, winning twice. Believe it or not, on June 3, 1969, the Sci-Fi series was canceled by NBC after three seasons and 79 episodes. Canceled or not, the cult lives on. Just yesterday, William Shatner made headlines as the oldest person ever to go to space, care of Jeff Bezos's Blue Origin rocket. He and three other astronauts hit a maximum velocity of 2,235 mph and reached a height of 347,539 feet on their 10-minute trip to the cold, black beyond before touching back down on the blue marble in West Texas.
Beam me up, Scotty. One of the Star Trek's innovations was the transporter room, a teleportation chamber that decomposed cells and reassembled them in another place almost instantaneously. In 2021, teleportation is still a thing of science fiction. Not even Jeff Bezos with his $190.6 billion in net worth can conjure up a home teleportation device on his e-commerce empire; a quick search for "teleportation" on Amazon.com yielded only books.
Right about now the supply chain wishes it had some of Blue Origin's rocket-science escape velocity and/or the luxury of a teleportation device. Yes, "supply chain" is trending. It has shown up in our missives more often recently, search interest is rising rapidly on Google Trends and Bloomberg reported yesterday that supply-chain chatter hit a record high on earnings calls.
With this in mind, we decided to take a look at the trucking and rail industries more closely. Enter today's charts du jour. Each one looks at similar metrics for each sub-group of the transportation sector. Volume of activity is depicted using rail traffic from the Association of American Railroads (AAR). Pricing trends are illustrated through the U.S. producer price index (PPI). Financial market performance is portrayed by the S&P 500 sub-industry stock price indices. All series are normalized with year-over-year (YoY) comparisons.
The path of trucking activity has taken a noticeable step backward so far in the second half of this year. Intermodal trailer traffic on America's railroads, a proxy for trucking output, downshifted from steady double-digit expansion to contraction from June through October (yellow line). Granted base effects account for some of this swing into negative territory, but not all of it.
A shortage of truck drivers picked up in the September Institute for Supply Management (ISM) Services survey is one impediment to the trucking industry operating at more productive capacity levels. A Business Insider deep-dive interview from this Tuesday with a veteran California longshoreman provided perspective from the truckers' point of view. It noted that truck drivers have complained about the lack of chassis at ports. This factor limits the number of shipping containers that can be carried out of the yard. It leads to slower growth in the trucking business not just in California, but across the distribution chain as well.
The multiple strains on trucking capacity have seen drivers working record long hours per week. In every month since March 2021, average weekly hours in truck transportation were at or above past record longs in this corner of the transport sector. All told, pricing pressures have become well entrenched since then and sustained at unmatched inflation rates that have persisted in the teens since April of this year (red line). While there has been a step back in equity performance, annual returns remain elevated (blue line).
Switching to rails, the picture looks similar. Rail traffic through modes also was down versus last year in September and so far in October (orange line). However, this was due to intermodal containers and trailers and not traditional rail carloads. Pricing power has picked up, but is not extreme (green line). Stock performance has been a stalwart, posting double digit YoY gains in every month since last August (purple line).
AAR noted that most of the disruptions facing the U.S. supply chain today began due to forces outside of railroads' control. Despite external challenges, railroads have kept traffic moving, particularly through the nation's busiest rail hub in Chicago. After the White House convened a meeting with supply and logistics execs, AAR applauded freight railroads' partners newly announced expanded service hours to ease congestion near the Ports of Los Angeles and Long Beach. "This move will capitalize on the long-standing 24/7 railroad operations and available capacity to accommodate additional containers at intermodal rail yards serving those key West Coast ports."
It doesn't take the captain of a starship to understand it will take time to resolve supply chain issues. However, both of today's graphics tell us that investors are viewing any slowdown in activity as temporary (and maybe putting more weight on things like base effects). That is why equity performance for both trucking and railroads hasn't cratered with the slippage in rail traffic. It has been supported by increased pricing instead.