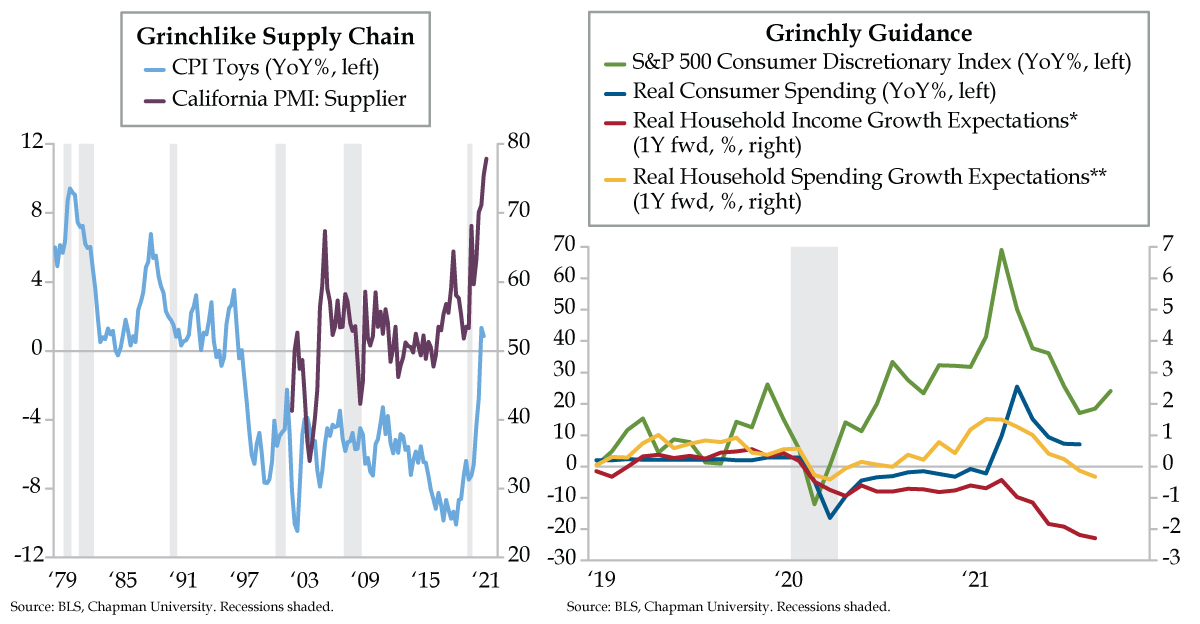 VIPs
The second and third quarters of 2021 saw CPI for toys post positive YoY prints for the first time since Q4 1996 and Q1 1997; California PMI Supplier Deliveries Index should continue to surge into Q4, with Chapman University expecting times to slow at a record high rate
Cox Transportation recently announced that shipments have declined by nearly 5% as a result of supply chain issues; coincidentally, the only bright spot in August's job openings data was in trade/transportation/utilities, with all other major sectors seeing declines
In the NY Fed's Survey of Consumer Expectations, household income growth and spending expectations both turned negative in August and September; this poses downside risk for real consumer spending, with the consensus at 2.1% and 4.2% for Q3 and Q4, respectively
October is leaf peeper season in the Northeast. If you get caught between an autumn leaf weekend and New York City, we recommend a detour to Springfield, Massachusetts, especially if your progeny has an affinity for reading. Right off Interstate 91 North is The Amazing World of Dr. Seuss Museum, honoring local native Theodor Geisel, a.k.a. Dr. Seuss. The two-story complex features family friendly, interactive exhibits exploring Dr. Seuss's Springfield roots. Opportunities abound to experiment with new sounds and vocabulary, play rhyming games, and invent stories – all in line with Geisel's revolutionary role in how we learn to read. It also replicates Geisel's studio and living room – with the furniture and art materials he actually used – and features never before publicly displayed art, family photographs and letters as well as the original Geisel Grove sign which used to hang in nearby Forest Park. You can even find Theophrastus, the toy stuffed dog Geisel's mother gave her son when he was a wee one.
Speaking of toys, October also marks the month we plan ahead to stuff stockings and fill the space underneath the Christmas tree. We know Halloween is a few weeks off, but this year especially, it doesn't hurts to start early. Retailers have already made a mockery of "Black Friday," which now encompasses the full month of November. Costco has their Christmas trees out and lit up earlier and earlier each year on the main floor.
Spoiler alert: Not all toys come from Santa's North Pole workshop. The U.S. Toy Association, which represents 950 toy firms with a U.S. footprint, has members that sell three billion toys a year, 85% of which come from China. The not-for-profit trade association founded in 1916 represents businesses that design, produce, license, and deliver toys and youth entertainment products for kids of all ages.
#ShopEarly4Toys. On September 21, the Toy Association warned that the shipping crisis in California could affect many of its members going into the all-important holiday shopping season. In a virtual event with the Port of Los Angeles, the Toy Association discussed the negative impact the logistical challenges are having on toys sold in the U.S., then spoke directly to consumers (bolding ours):
"Get out and buy toys now. Right now, toy manufacturers are doing everything in their power to ensure a good supply in stores for the holidays, but we just don't know what's going to happen down the road as we get closer to Christmas."
The Toy Association's PR resulted in coast-to-coast coverage from media outlets such as Good Morning America, Los Angeles Times, KTLA and the New York Post. We call it raising inflation psychology by inciting a buy-now mentality. Though the Association may have its constituents in mind, alerting the masses coincided with a regime shift for retail toy pricing. In the second and third quarters of 2021, the CPI for toys posted back-to-back (positive) inflation readings for the first time since 1996's fourth quarter and the first quarter of 1997. The interim period was 24 years of deflation (light blue line).
Pushing a buy-now mentality suggests toy producers give credence to the idea that higher prices will have some measure of staying power. With most of the imported toys entering the U.S. through Pacific Coast gateways, the California purchasing managers' index (PMI) provides a direct look at the scale of bottlenecks. We've all heard how many container ships are backed up in San Pedro Bay, near the ports of Los Angeles and Long Beach. The lower frequency quarterly California PMI Supplier Deliveries index continued to surge in 2021's fourth quarter (purple line). Chapman University, who compiles the data, indicated that delivery times are expected to slow at the highest rate ever recorded, a very Grinch-like supply chain, indeed.
As if on cue for the holiday show, Cox Transportation announced that the bottlenecks are so rife, they've caused shipments to decline by nearly 5%. Per Cox: "This supply & demand dynamic we're witnessing along with the cost of fuel and other factors has caused the average cost of a shipment (not the same as rates) to spike to a +31.4% change."Cox added that ocean freight is not included in its data. Is it any wonder that the only bright spot in August's job openings were in trade/transport/utilities? Aside from this exception and "other services," openings fell in all other sectors and geographic regions.
Buying toys is one thing. Challenging broader purchasing power is another altogether. That's exactly what the New York Fed's Survey of Consumer Expectations revealed this week. Household income growth expectations and consumer spending expectations, both adjusted for the jump in inflation expectations, turned negative in August and September (red and yellow lines). This Grinchly guidance suggests downside risks for actual consumer spending (blue line) might be closer than they appear. The consensus for real consumer spending remains complacent, with sequential quarter-over-quarter annualized gains for the third quarter and fourth quarter reading 2.1% and (a faster) 4.2%, respectively.
You're a mean one, Mr. Grinch. You really are a heel… That "heel" may be in for a disappointment. More expensive toys mean less under the tree for the Grinch to steal. Is that what this holiday season has in store? No sense disappointing Cindy Lou Who. The context of inflation risks and the subsequent near-term hits to purchasing power could generate the opposite of a Santa Claus rally for consumer discretionary stocks.